https://www.netgear.com/landings/ad7200/
INTRODUCING THE WORLD'S FASTEST ROUTER
Nighthawk® X10 Smart WiFi Router
NEVER SETTLE FOR LESS
Advance The Way You WiFi With Nighthawk
The Fastest WiFi Just Got Faster
Don't wait to watch! Experience ultra-smooth, lag-free WiFi experience for 4K video streaming and VR gaming.
Industry's First Home Router with Plex Media Server
With Plex, you have all your movie, TV show, music, video, and photo collections at your fingertips. Anywhere, anytime.
Powerful 1.7GHz Quad-Core Processor
Performance at its ultimate level – for better 4K streaming, VR gaming, surfing, or anything you throw at it.
Network management just a tap away, with the Nighthawk App
Nighthawk App makes it easy for you to install your router and get quick access to your network information. Features include:
Quick Setup
Get connected in just minutes.
Pause Internet
Pause the Internet to any device.
Internet Speed Test
Check the broadband speeds from your service provider.
And more…
Monitor your Internet traffic, update firmware, share WiFi with guests and much more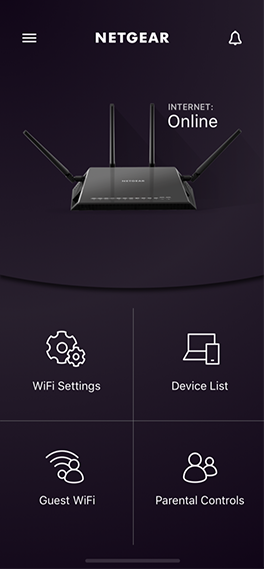 Nighthawk® X10 Smart WiFi Router
Industry's fastest router for media streaming with Plex media server
Nighthawk X10 with 802.11ac and 802.11ad WiFi technology delivers ultra-smooth 4K streaming, VR gaming and instant downloads.
With a powerful 1.7GHz Quad-Core Processor and Quad-Stream architecture, you can enjoy combined wireless speeds of up to 7.2Gbps
MU-MIMO supports simultaneous streaming, while 160 MHz doubles WiFi speeds to mobile devices.
Four patent pending external active antennas amplify WiFi signals to maximize range and throughput.
Fastest WiFi meets fastest CPU
PLEX, VR gaming and 4K streaming supported smoothly and reliably on computers and processors — at the same time.
PLEX
VR Gaming
4K Streaming
Fastest Wireless for Media Transfers & Backup
8sec
vs 24sec*
Time to transfer a3GB backup
21secvs 64sec*
Time to transfer a8GB 4K movie file
53secvs 120sec*
Time to transfer a20GB VR video
*Comparison against a typical 11ac router with max speeds of 1.3Gbps
Our support and community will always have your back
NETGEAR has round-the-clock premium support and an active community for any questions you may have. Help is always just a click away.